Things to Consider Before Installing Laminate Flooring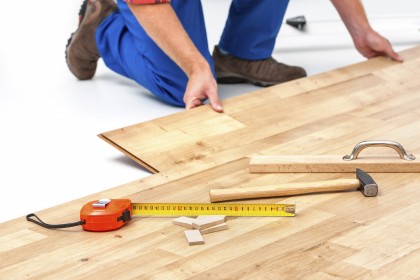 Laminate flooring is a huge convenience and time-saver, which is an amazing thing! But as with many things, this can be a double edged sword if you're not careful.
There are things that can go wrong when installing laminate flooring DIY, and you should do your best to avoid them. Firstly make sure the planks are room temperature to the room you're installing, if they're cold and contracted, they WILL expand when you install them, causing damage. It's advised to leave the planks in the room at least overnight.
Start by making sure your underlay or subfloor surface is flat as possible, or make sure you're making adjustments in your flooring for such imperfections. You also would like to make the surface as clean as possible, using household cleaners to scrub if possible, so that your seal is as sanitary as possible.
Another very important factor is of course having the correct measurements for your area, and having the resources to do so – it's generally recommended to purchase 15% more than you need in case any errors occur.
You should as well consider any stairs you will have to install the laminate on, as you are perfectly able to, you may have to purchase a nosing on the stair to help you with a clean finish on the steps.
You should also consider the thickness of the wood not only for the integrity of the structure overall, but for the sonic implications, laminate flooring if high enough up can cause a 'hollow' sound when walked upon, you can line your floor with padding, or get thicker planks to mitigate this quite easily.
Call us at Laminate Floor Kings to purchase materials today for your DIY project or have a PROFESSIONAL help you with your installation!