Why Choose Laminate For Your New Flooring?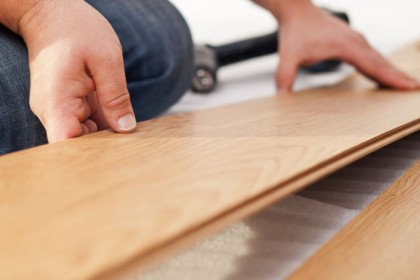 The benefits of choosing laminate flooring are many but why choose laminate flooring for your home? Find out!
Laminate flooring is a really amazing innovation in the world of flooring and infrastructure, as, unlike it's counterparts in marble, hardwood, or carpet, laminate floor does NOT fade in sunlight and is highly resistant to staining, scratching, and damage from impacts, known to withstand upwards of a thousand pounds of pressure per square inch with proper core board underneath.
This versatility leads to it's use in many environments. It is also highly resistant to dust, as well as mold and other bacterias, and these elements do not absorb into at all like carpet does, and is extremely easy to sweep. It's also nearly UV resistant so it's a very popular choice for sunrooms and atriums as the floor does not get damaged, as well as being conducive to temperature shifts by the way the laminate flooring is constructed. Another factor in laminate flooring popularity is the ease of laminate flooring installation.
It's really a snap for anyone who is handy with construction type materials, and even people who aren't because of a groove click system that helps you snap it together, we offer wholesale flooring for DIY for this very reason.
It doesn't matter at all what your underneath floor is because the laminate floor does not need to be adhered, it just floats overtop of plywood, concrete, vinyl flooring or even wood. This is ideal for saving time and money in almost every situation!